Excavator Hire Service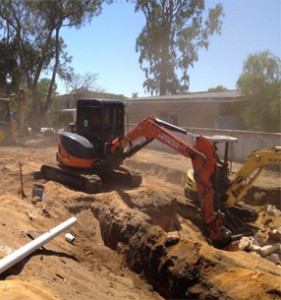 We offer reliable well-maintained excavation equipment in the Perth for all construction or mining projects with a fleet of excavators, trucks and other necessary equipment.
All available for hire at competitive rates. Our excavators are suitable for builders, landscapers, fencing contractors, electricians, plumbers and for civil construction or open-cut mining as well as for mine site rehabilitation.
Excavator usages include:
Rock breaking
Tree removal
Soak

wells concrete

installing
Trenching
Drilling auger holes
Landscaping
As well as our range of excavating equipment, we also stock other equipments and machinery such as:
Loaders
Bobcats
Trenchers
Scrapers
Backhoes
When hiring a mini excavator, the range is from one ton mini excavators up to five ton units fitted to a trailer for you to take away. Any larger excavators available for hire can be delivered directly to your work site.
By having our own workshop we are able to repair any faulty apparatus that occurs immediately ensuring a fast response to an emergency situation. Our machinery is all safety checked and well maintained by our professional workshop team. We are aware of the importance of the equipment you hire being thoroughly reliable.
Not only do we hire equipment to companies throughout the construction industry across the Perth area, we cater for the private sector with equipment needed for both large and small projects.
Ensuring you hire the right equipment for a project is all important.  So call us today to discuss the project you are going to undertake to make sure you are hiring the right machine for the job.
Excavators
Excavators can be used for many different purposes. The design of an excavator cab is both comfortable and easy to operate. The switches and gauges are positioned in such a way that they do not hamper productivity, are neither stressful nor tiring. Buckets, vibratory compaction plates and shears and hydraulic hammers are some of the attachments available with an excavator.
Information from Our Office
Our well-informed office staff are trained to provide information and assistance with any project problems. They are have a full understanding of our equipment and will assist with offering the right machine suited for your needs.
We are committed to delivering dedicated customer service to meet needs of every client. Please contact us if you are looking for an excellent excavator for hire in Perth.